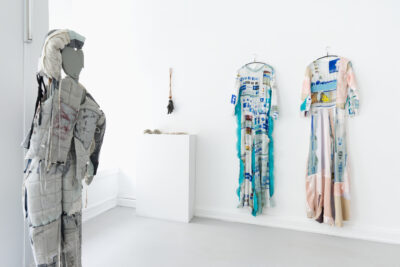 WEARABLES
CURATED BY JEPPE UGELVIG
28 JANUARY – 28 MARCH 2020
Etage Projects is pleased to announce the opening of Wearables, curated by Jeppe Ugelvig. Presenting fashion and lifestyle products by 23 international artists and collectives, the exhibition sets out to revive the art historical category of "artistic dress" via an exciting range of new wearable art.
Artists have long been attracted to clothing, seduced by its pragmatic functionality, its intimate engagement with the body, and the promise—or fantasy—of access to the mass-market consumer. In embracing fashion, artists repeatedly propose new forms, new functions, and new conceptual logics to the worn garment; in order re-envision comfort, deconstruct style, or transgress notions of value. But can artistic dress really be considered 'fashion' when it defies its most basic parameters of manufacture, distribution, and use? What makes clothing fashion and fashion art?
'Wearables' presents a selection of products by contemporary artists as the antithesis of fashion's ephemerality: as long-lived aesthetic commodities, as artistic investments to elevate your wardrobe and revolutionize your everyday. Ranging from conceptual merchandise to futuristic survival-wear, from social practice apparel to ritualistic accessory-lines, the exhibition highlights the contemporary enthusiasm for the sartorial art object from artists and consumers alike, while proposing a hybrid retail model for art and fashion practices at the fringes. Opening during Copenhagen Fashion Week, the gallery will be re-imagined as a utopian shopping environment for wearable art, complete with its own window displays, fitting rooms and accessory section: a space of pure sartorial desire, vestiary discovery and a critical interrogation of everything that claims to be ready-to-wear.
With products by A Maior, Viggo Amigo, CFGNY, Susan Cianciolo, Côme Clérino, Victoria Colmegna, FOS & Maja Brix, ektor garcia, Jo Riis Hansen, Hannah Heilmann, Paul Kopkau, Marie Lea Lund, Sabine Marcelis, Mended Veil, Odd Matter, Sinead O'Dwyer, Karl Troels Sandegaard, Sara Sachs, Soft Baroque, Studio Orta, Superpoly, Tenant of Culture and Pear Ware.