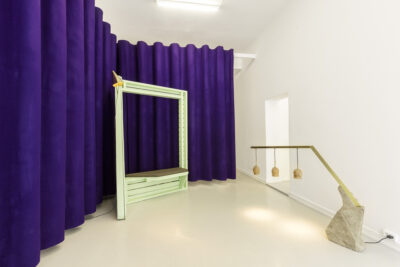 THE ORIGINAL DESIGNER'S WORKSHOP
BY FOS
11 AUGUST – 14 OCTOBER 2017
Etage Projects is pleased to announce the opening of The Original Designer's Workshop by the internationally acclaimed Danish artist and maverick FOS. First unveiled at the Design Miami/Basel 2017, this exhibition shows FOS using design to give form to the ideas at the core of his art as he states, "while art creates possibilities, design offers concrete solutions." Some of the works, showcasing his signature style with brass, wood and concrete, have recurrently appeared in his shows, whereas others are exploring new horizons, taking their place on the stage of the original designer, which is based on the notion of design as an extension between functions.
We are delighted to present the "Mountain Soap" by FOS, casted in the shape of some of the earliest design objects: the primordial stone axe and arrowheads. Mountain Soap is predicated in the pioneering designs of human development and soap: a product of urban settlement and cognitively demanding social cooperation. These design objects stand as a testament to the statement "Design is primordial". Other works continue the artist's exploration of the contrast between rigid and effusive forms of steel, wood and glass, taking the shape of stools, vases, tables and vitrines.
Through this exhibition, FOS has taken the opportunity to step out of his artistic realm and allowed his work to be purely functional objects – they are designs amongst designs. Their function however is also social: these objects are part of complex feedback systems in which materials, ideas, things, symbols, and situations are active communicators, aligning the natural forces for design with the human evolution.
Deriving from the key assumption that aesthetics and sociality are inextricably intertwined, FOS's work brings together elements of sculpture, design and installation. His aesthetic is informed by a philosophy he refers to as Social Design, a notion that reflects his vision of creating multifunctional social spaces and environments that facilitate interaction and stimulate heightened communication among individuals. His total-work-of-art installations achieve maximum impact only by virtue of the audience and activities they reflect on the work.