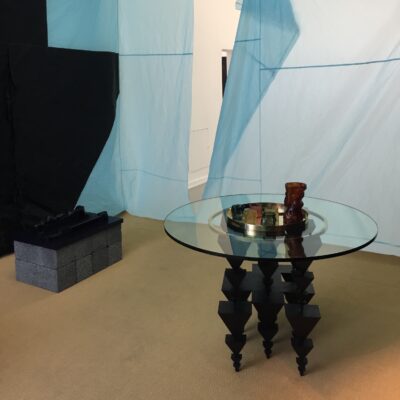 FOS FOR CÉLINE
20 JULY – 11 OCTOBER 2015
ETAGE PROJECTS IS PLEASED TO PRESENT THE EXHIBITION FOS FOR CÉLINE – A SELECTION OF DESIGN OBJECTS THAT DANISH ARTIST AND MAVERICK FOS CREATED FOR CÉLINE. ETAGE PROJECTS COMBINES THESE DESIGN WORKS WITH A SERIES OF HIS ARTWORKS, AND EXHIBITS AN EXCLUSIVE FOS UNIVERSE, THAT SIMULTANEOUSLY BREAKS AND UNITES TRADITIONAL INTERIOR DESIGN.
________
FOS investigates how our creative forming is a symptom of an ethnically controlled social behaviour – and thereby how space defines our way of interacting. The forms and shapes of his work address both control and freedom. They are dialogues about how human identity is controlled by ethnic slang in our surroundings but they are also about a freedom that will dissolve the strangling ropes of identity, opening up space for interpretations, as FOS argues in his artistic framework for Céline. On that basis FOS has created a series of works that he refers to as 'social design'. Using his existing practice as a departure point, FOS has developed an aesthetic that unites the luxury of Céline with a strong artistic identity.
A selection of this work is on display at Etage Projects from the 20th of July 2015.
The additional work that FOS created for Céline can also be acquired through Etage Projects.