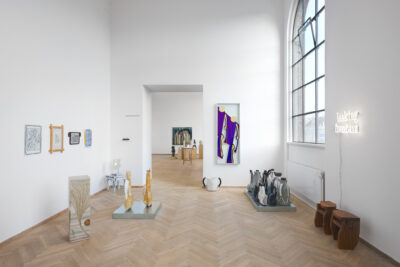 For CHART 2023, Etage Projects will present a group presentation. A collaboration between artist FOS (DK) and artist duo Soft Baroque (AUS/SL) will be presented exclusively at CHART. FOS shows a series of risoprints, a technique also known as digital screen printing where you can produce vivid colours and a specific texture due to the layering of colour. These print has been framed by Soft Baroque with uniquely designed frames for each specific print.
In contrast to the colourful works by FOS x Soft Baroque a display of Karl Monies' arcana series will be shown. A monochrome patch of containers will be on view where all colour has been removed to emphasis the naive touch of the human hand.
Excited to introduce 2 new works by Korean artist Minjae Kim, the Angel and Devil Vases made of quilted fibreglass resin. With his unique signature fibreglass production he created to large floor vases by hand. The results are at once poetic, imperfect, simple with an inherent personality.
Hilda Hellstrom is presenting a plinth reminiscent of a core sample or a diagram over earths crust. The piece is called 'Tid' (time) alluding both to geological time and to the lengthy casting process of layered sediments, in producing the work. The piece is part of Hellströms ongoing investigation into the relationsship between man and geological matter, using casting techniques as an analogy for geological processes.
Participating artist: Karl Monies (DK), FOS (DK), Soft Baroque (AUS/SL), Hilda Hellstrøm (SE), Minjae Kim (KR)