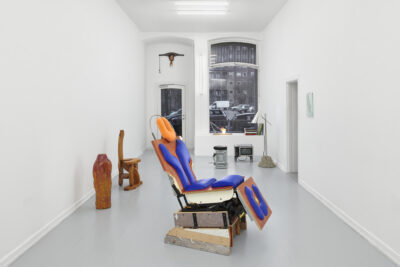 CO-CURATED BY JEANETTE APITZ AND TINA ROEDER
FEATURING WORKS BY:
LAB LA BLA, PEGASUS PRODUCT, SOFT BAROQUE, UFFE ISOLOTTO, KUENG CAPUTO, ALEX MUELLER, NURI KOERFER, ANAïS BORIE, TINA ROEDER, LIZZY ELLBRUECK, ARNAUD EUBELEN, KOOS BREEN, BNAG, FOS, Superpoly
Etage Projects is pleased to present Hybrid Habitability, a group exhibition co-curated by Jeanette Apitz and Tina Roeder. 
In a world where the boundaries between natural and artificial, analog and digital, and human and non-human blur, 'HYBRID HABITABILITY' offers a fresh perspective on coexistence and collaboration. This group exhibition unites a diverse array of artists and designers, each pushing the boundaries of their respective mediums to nourish hybridity in our living environments.
Through a captivating blend of sculptures, installations, interactive and olfactory exhibits, the featured artists delve into the complexities of modern existence. They challenge us to reimagine how our physical spaces harmonize with the digital realm, how nature seamlessly integrates with man-made structures, and how we conceive 'home' in an age of constant transformation.
This exhibition invites us to reconsider our connection to Earth and its inhabitants, exploring evolving relationships between humans, animals, plants, objects, technology, and other entities.
An expedition through surreal landscapes, speculative hybrids, and imaginational concepts, offering an otherworldly experience amid today's uncertainties. As the Earth's habitability is increasingly threatened by human actions, the exhibition calls for collective reevaluation, urging us to redefine our species' boundaries, embrace diversity, and nurture the planet's regeneration.
Curated with the gallery space in mind, HH showcases three scenarios of a gathering – fluid self care, earthy collective camp fire, and airy celestial spirits reading circle.