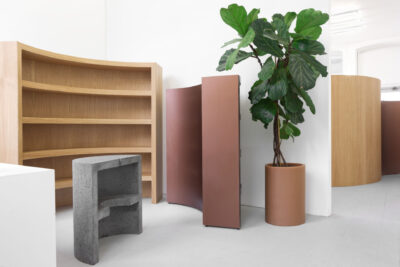 GROWING WITH YOU
BY TITIANA BILBAO
11 OCTOBER – 23 NOVEMBER 2019
Etage Projects is proud to present the exhibition Growing with You by world-renowned Mexican architect Tatiana Bilbao. Growing with You is a collection of functional, sculptural objects based on the studio's core philosophy of 'humanising' the constructed environment. The collection consists of unique, cylindrical pieces made in natural materials such as marble, copper and lava rock, creating a versatile and dynamic space for contemplation. The project has been realised in close collaboration with the Mexican/US design gallery and creative hub AGO Projects.
Concurrently with her upcoming solo-exhibition at Louisiana Museum of Modern Art, in Humlebæk, Denmark, Tatiana Bilbao has for the first time dived into the universe of interior design and created a distinctive series of sculptural, multi-functional objects for Etage Projects. Entitled 'Growing with You', the collection counts shelving units, benches, a table and a lamp – all made to easily transform from small intimate spaces into significant collective meeting points for conversation. 'Growing with You' most elegantly captures the dynamic intersection between the minimalism of the industrial form and the poetic, organic capacities of traditional Mexican craft and materials.
Born in Mexico City in 1972, Tatiana Bilbao has gained international acclaim for her socially conscious approach to architecture. The studio's philosophy is based on social and political awareness, opening up niches for localised cultural and economic development. By placing the ethics of 'the other' in the centre of every project, Bilbao has been widely recognised for her engagement in social housing and collective meeting places serving urgent urban needs. Bilbao has been the recipient of various awards and honours, among others 'Emerging Voice' by the Architecture League of New York in 2009, Kunstpreis Berlin in 2012, the Global Award for Sustainable Architecture Prize in 2014 and the patronage of UNESCO. Her work is part of the collection of the Centre d'Art George Pompidou in Paris, France, the Carnegie Museum of Art, and the Art Institute of Chicago.
ABOUT AGO PROJECTS
AGO Projects is a design-driven practice and designer representation space started by Rudy F. Weissenberg and Rodman Primack. Based in the energising creative metropolises, Mexico City and New York, AGO Projects is committed to incubating and promoting exceptional design voices. We work together with artists and designers to realise personal projects of various scales while actively enhancing international alliances and opportunities.