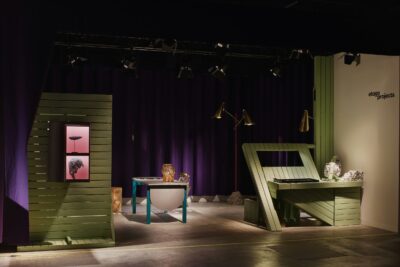 Etage Projects is excited to present works by FOS at Design Miami/Basel this June. Based on the notion of design as an extension from one function to another, FOS will furnish the booth as a design stage with a variety of items, including soap, inspired by ancient tools such as stone axes and arrowheads, and tables, lamps, vitrines and plinths.
In this project for Design Miami/Basel 2017, FOS uses design to give form to the ideas at the core of his art and states "while art creates possibilities, design offers concrete solutions." Some of the works, showcasing his signature style with brass, wood and concrete, have recurrently appeared in his shows, whereas others are created in response to the specifications and context of Design Miami/Basel.
We are delighted to unveil the "Mountain Soap" by FOS, casted in the shape of some of the earliest design objects: the primordial stone axe and arrowheads. Mountain Soap is predicated in the pioneering designs of human development and soap: a product of urban settlement and cognitively demanding social cooperation.
By showing in a Design fair context, FOS has taken the opportunity to step out of his artistic realm and allowed his work to be purely functional objects – they are designs amongst designs. Their function however is also social: these objects are part of complex feedback systems in which materials, ideas, things, symbols, and situations are active communicators, aligning the natural forces for design with the human evolution.
Deriving from the key assumption that aesthetics and sociality are inextricably intertwined, FOS's work brings together elements of sculpture, design and installation. His aesthetic is informed by a philosophy he refers to as Social Design, a notion that reflects his vision of creating multifunctional social spaces and environments that facilitate interaction and stimulate heightened communication among individuals.