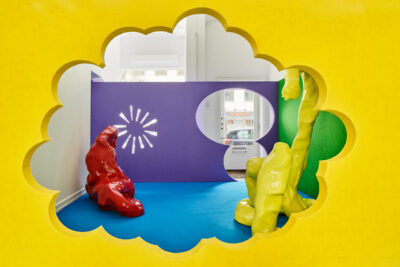 BULLET POINT
BY GUILLERMO SANTOMA
24 NOVEMBER 2017 – 20 JANUARY 2018
Scan process. Reality as a material. Abstraction as a complex process of creating realities. Amorph in the middle of a room. Understand what a corner means.
Etage Projects is delighted to present Bullet Point by the Barcelona based designer Guillermo Santomá. Featuring amorphous functional artworks and strategically cut wooden screen walls, this exhibition takes a step further into the study of colour and architecture in a 3D landscape.
Deploying colour is more than just painting; it is rather a transformation of the relationship between object and space. For this exhibition, Guillermo Santomá created seating arrangements, shelves and lighting made of EVA Foam, coated by glossy car paint. Each work started as a Play-Doh model made by the artist, which were then 3D-Scanned and carved into layers of foam by a CNC Mill. These works are situated within the installation of wooden walls, emphasizing the importance of the point of view, generating endless possibilities to understand color and the intersection of all layers.
Santomá asserts, "I am not really interested in the final form of the pieces, I try to understand it. Like the idea of the abstraction, at the end I understand that the pieces are like the small shapes my son makes. Nothing, yet everything when you can see the relation between the space, your eyes and your reality."
Guillermo Santomá (b. 1984) lives and works in Barcelona. After completing his MA in Design from Elisava Barcelona, he drew attention to his work with his total transformation of Casa Horta – an architectonic, artistic intervention in a traditional horta-house from the beginning of the 20th century. Santomà places himself somewhere in-between architecture and design and creates complete environments for his work to act in. With the artistic formula 'to create is to destroy', he works to deconstruct the fixed images of design. Never pre-sketching his work, Santomà's work is a constant process of deformation and creation. Contrasts meet and dialogues form in the intersection of various materials and functions: foam, sand, glass, metal and neon.