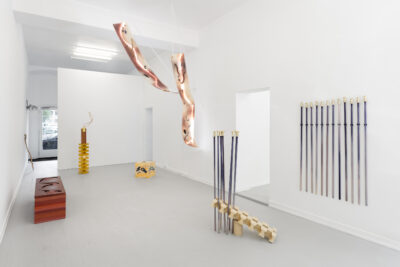 THE SCIENCE OF IMAGINARY SOLUTIONS
BY HILDA HELSTRÖM
9 AUGUST – 28 SEPTEMBER 2019
Hilda Hellström has developed her practice using intricate casting techniques that explore the inherent qualities of transformative materials. In the process she incorporates the will of the material, leaving large parts of the process to the haphazardness of gravity. She sees this interest as a critique of the anthropocentric worldview that leaves the man at the centre of all relations. The juxtaposition between control and chance is at the core of her work, where control represents human action, and the chance represents non-human influences.
Expanding on these thoughts, Hellström has explored the themes of geology and natural disaster throughout her practice. The ground we stand that we know in its uttermost solidity erupts and transforms, which might leave us feeling humble or lacking control. These transformative aspects of the world and the malleability of reality are translated into the work in different ways. For the exhibition, Hellström also thematises around the free bird that dwells within a built urban space, as a symbol for this unchained natural force inside a constructed environment.
The title of the show 'The Science of Imaginary Solutions' refers to an account of Pataphysics (coined by Alfred Jarry at the fin de siècle); concerning the irrational, illogical and the exceptional, which in many ways influenced the work of the Dadaists and the Surrealists. Hellström adopts this phrase as the title, not only to emphasise the use of intuition or sentiment as a creative approach but also, with the interplay of the words science and imaginary, to underpin the two contradictory forces in her practice. With craft at the centre, the work oscillates between sculpture and utility, abstract and representational form.
The exhibition includes a catalogue made in collaboration with graphic designer Laura Silke.
HILDA HELLSTRÖM
Hilda Hellström (b. 1984 Gothenburg, Sweden) graduated from with an MFA (MA) at the Royal College of Art in London in 2012. Her work has been exhibited at the Gothenburg Museum of Art, The British Craft Council, MAK (Museum für Angewandte Kunst) Vienna, Victoria & Albert Museum London, Tramway Glasgow, London Design Museum, Eskilstuna Konstmuseum, Gustavsbergs Konsthall, Kalmar Konstmuseum, Röhsska Museet, Art Basel Miami, Shanghai Power Station Art Museum, Daelim Museum South Korea, Design Museo Helsinki and MUDAC Lausanne, amongst other institutions.
Hellström currently lives and works in Copenhagen, Denmark.