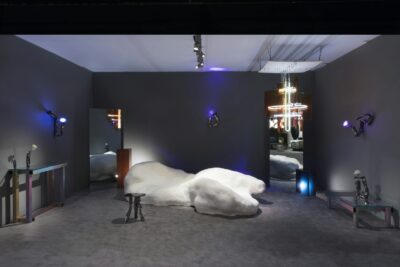 Etage Projects
Salon Art + Design 2017, New York Booth C11
For Salon Art + Design 2017, Etage Projects commissioned exclusive works by Sabine Marcelis, Guillermo Santoma, Fredrik Paulsen and Soft Baroque to create a contemporary interior that celebrates the colors and lifestyle of the modern city and post-digital existence.
The Chandelier by Sabine Marcelis features shells of deep amber glass circling neon rings in this airy design. The sculptural tall mirrors are held up by the Dutch designer's signature candy resin blocks. Guillermo Santoma's freewheeling and eloquent style manifests itself in a lush cream sofa, juxtaposing the two-sided chaperone chair structure with a super modern amorphous form in rubber. Fredrik Paulsen's side table and console turn the spotlight on a brand new and unique technique that combines anodized aluminium with his signature rainbow tie-dye we know from the Prism series.
Soft Baroque joins the party with the crushed and black nickel-plated side table and vase/lamps, playing with ideas about stereotypes in gender aesthetics, material expectations and shifting values. Masculine black nickel finish on the exhaust pipes, deformed by hand and the hammer, meets a feminine touch of flowers. A remote controlled, color changing LED light allows you to browse through a spectrum of colored flowers resting in the vase opposite. This creates a cinematic, ever-changing wall piece. The tube references a parametric, digitally rendered surface, but is made in a forceful and chaotic process.