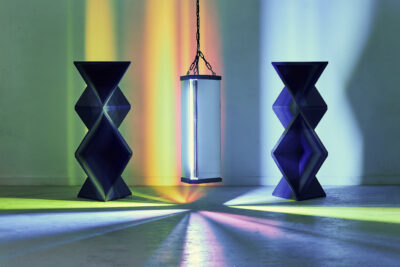 RECREATION
BY SVEND SØMOD
21 AUGUST – 21 SEPTEMBER 2020
Etage Projects is pleased to present the immersive bar installation Recreation by Svend Sømod, the Danish artist's first solo exhibition with the gallery. With a nod to relational aesthetics and the gesamtkunstwerk as form, the project combines furniture, relational, and molecular design thinking in the context of a cocktail bar, open for service throughout the run of the exhibition.
Svend Sømod's deep interest in and passion for mixology dates back to his early teenage years where his father (a former bar owner) introduced him to the art of mixing drinks.  Sømod has over the past few years embraced cocktail-making as a part of his artistic practice, partly in response to his own disillusionment with the disembodied, intellectualized, and deeply alienating experience of most contemporary art. What if the gallery was a cocktail lounge, Sømod posits: a place where the search for abstract knowledge takes the shape of a beverage or an ambiance that works on the body and mind in the subtlest of ways? Rather than presenting loaded objects of symbolic significance, Sømod is concerned with a choreography of the senses, letting "the work" offer a context and condition for other – bodily, social, psychic, epistemological – experiences to unfold.
Drawing from physics, chemistry, and mathematics, Sømod's total formal language follows general principles of fractal geometry and are applied in Recreation across cocktail recipes, furniture design, menu typology, soundtrack, and lighting. Geometry runs across the natural world: from the hexagonal shape of almond's aromatic compound to the crystalline structures of snowflakes, most things are geometric when studied on a microscopic scale.
The installation includes wooden bar furniture with crystalline structures faithful to those found in nature; polyhedronic chairs and stools designed as Platonic solids; kaleidoscopic mirror lamps working with optical feedback; choral- and plant-like bifigurative lamps mimicking natural cell-division; tensegrity tables made from bamboo, chains and springs; cylindrical cocktail glasses; grid-structure typography for the drinks menu; a carefully designed 4-channel bar soundtrack purposely avoiding melodicism and harmonic chords, played between two speaker systems; and 10 original cocktails made with Empirical spirits.
Considered in its totality, Recreation is a way for Sømod to present an overload of abstract information to the viewer in a cozy, social, and flavorful manner. During its run, the bar will also host a series of concerts with local experimental musicians working with mathematical theory.