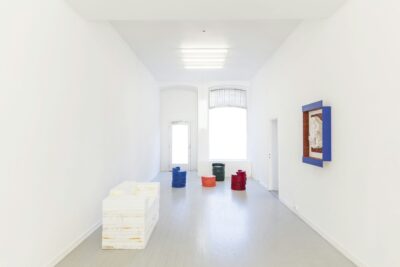 POVERA EXTRAVAGANZA
BY ULRIK WECK
28 OCTOBER – 18 NOVEMBER 2017
Etage Projects is delighted to present Povera Extravaganza, a solo exhibition of selected new works by the Danish artist Ulrik Weck. The show features sculptural furniture and figurative painting made of polystyrene foam, also known as 'flamingo' in Danish.
Since 2010, Polystyrene (Styrofoam) has been a pivotal point in Ulrik Weck's art practice, esteeming the cheap, white Styrofoam sheets as precious marble. Originally designed as isolation material in construction, Flamingo is taken out of its original context and worked in sculptural compositions and visual expressions in Weck's discipline. To Ulrik Weck, the material offers various prospects. It is easy to give form, yet also porous and therefore requires caution when processing it.
Povera Extravaganza demonstrates the artist's interest in texture, surface, volume and balance between illusion and reality in a pictorial expression created by his curiosity for unconventional material compositions. The works on display are in a cross-field between painting/relief and sculpture/furniture – between depth and surface. Inspired by Arte Povera, the title stands as a further evidence of Weck's fondness for found materials. Literally "Poor Art" in Italian, Arte Povera was a radical Italian art movement from the late 1960s to 1970s, whose artists explored a range of unconventional processes and non-traditional 'everyday' materials. Weck's works in Povera Extravaganza are made of found or mundane materials and have characteristically coarse features, which over the time became the artist's earmark.
Ulrik Weck's art practice is highly varied in his expression and he deliberately avoided a categorization since his departure from the Royal Danish Academy of Fine Arts in 2003. Instead of limiting or defining himself through a particular medium or style, Weck still seems to pursue his curiosity in an eternal attempt to expand his visual horizons. Ulrik Weck lives and works in Copenhagen. His art is presented at the Horsens Art Museum and in private art collections in Europe, Japan and the United States