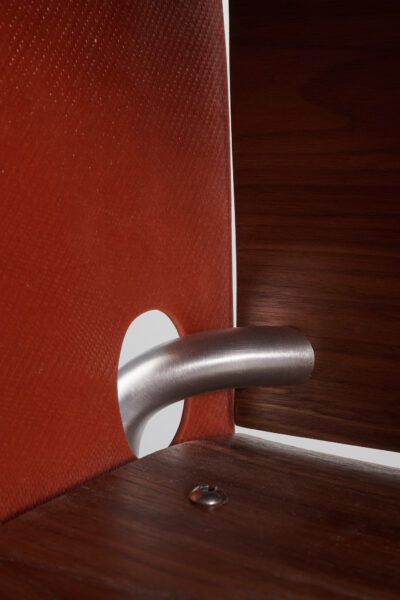 Etage Projects is pleased to present Perfomance Anxiety, a solo exhibition by Soft Baroque. 
This marks the design duo´s third solo show with Etage Projects and the presentation of three new collections – Toothpick, Power Carved and Diet Wood.
The title `Performance Anxiety´ refers to how objects are expected to be hi-performance. They put on a performance through their surface and we are expected to perform with our stuff for one another. These definitions are mushing our perception of our modern needs and creating strange criteria for functional items. Soft Baroque plays with this mechanism by making pieces with distortions and exaggeration, typical construction details or applications of hi-performance materials to traditional shapes.
Through their practice, Soft Baroque focuses on creating work with conflicting functions and imagery, without abandoning beauty or consumer logic, blurring the boundaries between acceptable furniture typologies and conceptual representative objects. The refined and simplified forms of their works reflect principles of mid-century design, while at the same time veering towards conceptual territory by evoking the malleability of how objects are seen and mediated today. Processed materials manufactured for the domestic interiors are manipulated to unconventional ends.
Soft Baroque, Nicholas Gardner (b. 1988) and Saša Štucin (b. 1984), has exhibited at the V&A, Christie's, Somerset House, the Design Museum in London, Swiss Institute, Friedman Benda and Patrick Parrish Gallery in New York, A Palazzo Gallery in Brescia, Etage Projects in Copenhagen, Depot Basel in Basel, Het Nieuwe Instituut in Rotterdam, Collective Design in New York, Nomad in Monaco and St. Moritz, Design Miami/ Basel and Venice Art Biennale.