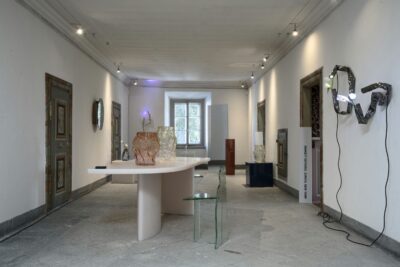 In one of the hallways of the 16th century mansion Chesa Planta, Etage Projects presents works by FOS, Sabine Marcelis, Guillermo Santoma, Fredrik Paulsen and Soft Baroque to create articulate variations of snow and mountains, inspired from the illustrious habitat of St. Moritz and the Swiss Alps.
The Mountain Vases by FOS embody the surface of the mountain, calibrated to the size of human interiors. FOS explains, "It's limited what references an object into a vase, other than a flower: A vase is designed to contain a little piece of nature's flowers. But then there is scale. If you look at all the brick houses made by bricks, made to fit the human hand, then scale becomes a perspective. That's what the shape of this vase is about. It's about taking the surface of the mountain and scaling it down to the size of hands and flowers."
Sabine Marcelis' new off-white SOAP Table, first unveiled at Nomad St Moritz, is a dynamic dinner setting, featuring her signature resin with a soapy matte surface, alluding to the snowy surroundings of St Moritz. The sculptural DEUX mirrors are held up by the Dutch designer's signature candy resin blocks. Additionally, her acclaimed Candy Cubes make their appearance in never-before-seen colors.
Soft Baroque introduces pearl screws in the Pearl Mirror Cabinet, which combines a bathroom mirror with a cabinet behind, embellished with pearl screws. Screws are a super normal and universal method for creating structures, however it is often embarrassing for a designer to leave them exposed. Possibly from nostalgia for traditional timber joinery or the desire for the visual purity, screws are filled, plugged, hidden or covered. Freshwater pearl screws tops are the overcompensation for this delusion, a marriage between the most economical construction system and the cultural value of natural pearls.
Guillermo Santoma's freewheeling and eloquent style once again manifests itself in a unique mobile chandelier, combining different lighting fixtures, neon, glass and cable, reminding of Bruno Munari's 'Useless Machines'. With the artistic formula 'to create is to destroy', he works to deconstruct the fixed images of design. Never pre-sketching his work, his work is a constant process of deformation and creation.
Juxtaposing cold steel and lush sheepskin, the Peach Melba Chair by Fredrik Paulsen demonstrates the Swedish designer's open minded artistic spirit and his continuing fascination with common materials and experimentation with colour.