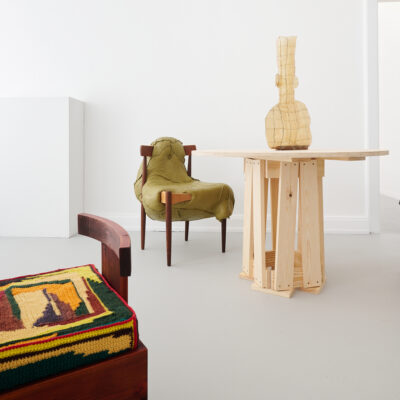 HAVE A SEAT
FEAUTURING WORKS BY
ATELIER AXO x LULU KAALUND
MINJAE KIM
CHARLOTTE KINGSNORTH
KARL MONIES
BETTER WEATHER
CURATED BY SEBASTIAN RANHAUGUE
16  SEPTEMBER – 16 OCTOBER 2021
Etage Projects is pleased to present HAVE A SEAT, a group show curated by Sebastian Ranhauge.
Binding the show together, all the exhibited chairs are referencing old techniques, shapes or models from the history of design while concurrently adding new features that throw them into the future and force us to rethink the notions of classic chair designs.
Karl Monies' cubic stools present the most basic function of seating. Referencing minimalist art, his stools give new life to the ancient design of the wooden trunk gathering people around the campfire, manifesting the communal function of the chair. The stools are painted with thermochromic paint which tracks the heat of the human body leaving imprints after use.
Rather than creating an imprint of the human body, Minjae Kim's 'Fast Chair' almost appears like a human body. Working with the anthropomorphic aspect of furniture, the chair resembles anything but a chair, while at the same time functioning as one. With its crooked proportions and black lacquer painting, the design references ancient asian furniture history.
Charlotte Kingsnorth finds inspiration in working with chairs that have been abandoned or are in need of repair. She hand crafts the foam directly around the frames in an intuitive lead process of addition and subtraction, physically sculpting out a character and rearranging new body parts in what appears to be an anthropomorphic happening.
Atelier Axo's three chairs reference classic chair designs, but their proportions have been escalated in a way that makes their appearance almost naive. With Lulu Kaalund's cushions crocheted in graphic patterns, the chairs pay homage to an old craftsmanship with a quirkiness that challenges and extends our notion of same.
Better Weather is aiming at provoking the furniture industry and its excessive use of ressources. As a counter statement the 'Patina Chair 01' is made from left over construction work material painted with colored brush strokes.
Placed around table designs from Enzo Mari's Autoprogettazione, HAVE A SEAT embraces the communal thought of creating, sitting and dining together, inviting the visitors to take a set.