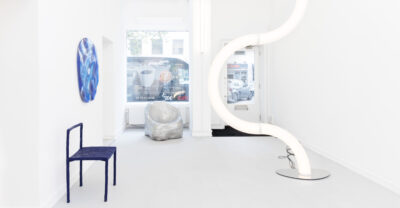 Domesticity is nuanced by objects and their placement in space through articulation, association, and activation. A continuous dialogue between the material and the void evokes feeling beyond our everyday comprehension. DOMESTICITY-AT-LARGE presents a series of objects, sensation driven investigations comprised of elemental pieces (chair, table, stool, light, mirror) within acts-of-living, familiar set ups of domestic life within a futuristic scenography environment of textural and formal ambiguity.
Act I chair in front of mirror Act II light next to chair Act III seats around table with ceiling pendant.
Polymorph cast aluminum lounge chair
Nature and artifice come together into a solid seat cast in aluminum through a process of documenting and translating.
Atmosphere
Hanging transparent sphere holding a light within its body.
Metamorphic rocks
A solid rock formation sitting upon a tray on casters as an elemental gesture for creating a resting element. The rock is a familiar yet surprising material mass, semitransparent, solid, and soft in touch, produces a unique sensible feel.
Blurry thoughts
Cast resin around a mirror plane creates a topography that blurs parts and reflects through color and material transparency.
Minimum chair
An elemental seat comes out of a pro- cess of material extraction, from the industrial to the handmade to capture the utmost essential moment.
Tube lights columns
Vertical sculptural light formations of seemingly pliable acrylic extrusions diffuse light into space.
Holo coffee table
A malleable semi-transparent surface rests atop a holographic-treated prismatic volume leading to a playful perception of color, light and tactility.