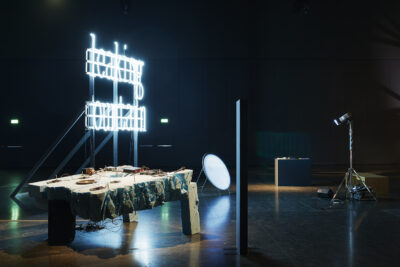 DESIGN MIAMI/ BASEL 2019
BANK MUD / DELI MUD, A DUO PRESENTATION WITH FOS AND GUILLERMO SANTOMA
Etage Projects presents "Bank Mud / Deli Mud", a curated tent installation enclosing the 'Leaking Fountain' neon art and a film by the Danish artist FOS and a piano by the Spanish designer Guillermo Santomá.  The connection between the two artists' works discusses a political question, this year's theme of Anthropocene, through an anecdotal narrative.  As the human presence turned into a globally potent bio-geophysical force in this newly declared epoch, the film explores the abandoned human construction's struggle with the harsh face of nature and the coincidental encounter with a deserted piano bridges to Guillermo Santomá's distinctly modified electronic keyboard. The delicate, melting openings in the fabric walls of the tent suggest the fragility of human imprint; the sense of falling apart once let go.
"The human condition is in constant flux like all the rest. So we counteract with our minds, eagerly dividing things up like the present, past and future, mirroring our randomly selected memories onto material selection and forming them into expressions for the outside to feed our inner life." says FOS and adds "Because our inner universe consists of the same materials as any other that we touch. To impose this on the world continuously is the human condition of involvement. We have now built a giant mirror of behaviour expressed in the Anthropogenic reality. Our inner workings have changed nature itself making us a double reality – Something has to let go."
Guillermo Santomá states, "I always had a sensibility towards nature. Our society is essentially urban and artificial, so untouched nature contains a sense of melancholy for me." and adds "Maybe nature now is more close to the designed object than we think." The Anthropocene is the palimpsest of the previous world; the old paper is washed and is being rewritten as we stand.
—
FOS
Born Thomas Poulsen, Danish artist FOS (b. 1971) has the unique ability to make the complicated understandable through his unparalleled course of design, while challenging himself, the audience and the art world. FOS's total installations, which he refers to as Social Design, embrace poetry and humour while at the same time assuming a critical tone. The installations achieve maximum impact only by virtue of the audience and activities they reflect on the work.
FOS investigates how our creative forming is a symptom of an ethnically controlled social behaviour – and thereby how space defines our way of interacting. The forms and shapes of his work address both control and freedom. They are dialogues about how human identity is controlled by ethnic slang in our surroundings but they are also about "a freedom that will dissolve the strangling ropes of identity, opening up space for interpretations" as FOS argues.
He used this departure point in the project FOS for Céline, creating an aesthetic that unites the luxury of Céline with his strong artistic identity. His CV includes museum exhibitions at the SMK – National Museum of Art, Louisiana Museum of Modern Art, GL Strand and Kunsthal Charlottenborg, awards such as the Arken Art Prize and solo exhibitions in Denmark, Norway, Germany, the United Kingdom. His work is featured in the Danish Arts Foundation collection and the official residence of the Danish Prime Minister, 'Marienborg'.
GUILLERMO SANTOMA
Spanish designer Guillermo Santomá (b.1984) lives and works in Barcelona. With an MA in Design from Elisava Barcelona, Santomà attracted attention to his work after his total transformation of Casa Horta – an architectonic, artistic intervention in a traditional Horta-house from the beginning of the 20th century. Santomà places himself somewhere in-between architecture and design and creates complete environments for his work to act in.
With the artistic formula 'to create is to destroy', Santomà works to deconstruct the fixed images of design. Never pre-sketching his work, Santomà's work is a constant process of deformation and creation. Contrasts meet, and dialogues happen in the meeting between various materials and functions; sand, glass, metal and neon.
Santoma incorporates performance art into his practice with live design shows, one of which presented at Chart Art Fair 2018 in Copenhagen. Previous exhibitions include Wer Haus, Palais de Tokyo and Museo Cerralbo.