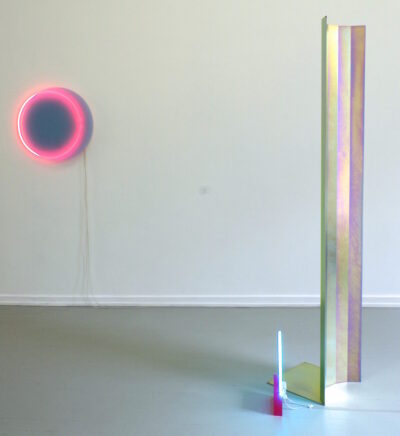 TINCTURE
BY SABINE MARCELIS AND LUUK VAN DEN BROEK
1 MAY –  4 JULY 2015
ETAGE PROJECTS IS PLEASED TO PRESENT TINCTURE, A JOINT EXHIBITION BY SABINE MARCELIS (NL/NZ) AND LUUK VAN DEN BROEK (NL).
A returning theme in the praxis's of Marcelis and van den Broek are the qualities of colour. The title of their joint exhibition in Etage Projects, Tincture, seeks to redefine colour and material as sensual, subjective experiences rather than static entities. Underlining the dynamic and artistically composed character of their work, Tincture refers to a series of synonyms such as; colour, stain, tint, trace, dye, shade, extract, elixer, cast and pigment.
Based in Eindhoven, Luuk van den Broek is working in the field between art and industrial design. Intuitively looking for the deepest colour, the most logical connection or the most compelling composition, his work translates the exploration of moments in time through material, colour, and personal experience. For his exhibition at Etage Projects van den Broek has created a series of works that experiment with the industrial process of zinc electroplating. This has allowed van den Broek to create new in-between colours in the industrial passivation process.
Sabine Marcelis is a Dutch/New Zealand designer based in Rotterdam. Marcelis sees her designs as experiences and strives to create a dialogue between the object and the user. The aesthetic core of her work is informed by the function of the selected materials. For Tincture Marcelis has created a series of light-based works. The 'voie' light series is the result of an investigation and manipulation of light-paths. Having chosen neon as the primary light source, the designed objects create an interception on the path the light follows through the addition of a singular extra material.
The addition of cast polyester resin diffuses the light path and in turn uses the light source to enhance the colour properties within the resin. A new moment is created when this mutually beneficial relationship is formed between materials, defining the unique properties of each where the two meet.
Sabine Marcelis will also be showing a new project done in collaboration with designer Rob Hebing.  'Incalescence' is a hanging wall clock, which shows the passage of time through a change in colour of its surface; the seemingly plain black wall piece magically reveals white zones to indicate the hours and minutes as they pass.