Ditte Gantriis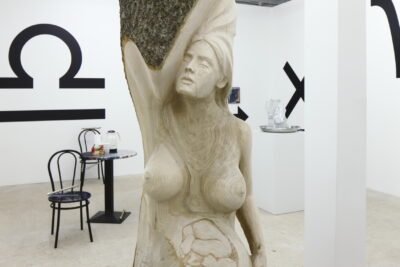 Ditte Gantriis is an artist that often works across a range of media in order to create immersive installations. On many occasions Gantriis appropriates widely used symbols and signs, even cliches if you will, to question and repurpose their meaning. Appreciation for artisanry of varying materials grants her work with sleek shapes and is present characteristic of her practice.
Over the past years Gantriis' practise has revolved around creating objects that she would want to live with. Objects created from soothing neccessity perhaps. The artist wishes to offer an intimate relationship with her works in much the same way as she herself has with them.
Ditte Gantriis (born 1980) is a Danish artist living and working in Copenhagen. She has completed her Master's degree at the Royal Danish Academy. Gantriis has participated in exhibitions in Europe, the Baltics, Asia and the United States, of which the most recent exhibitions includes "Café Livmoder" Go extreme (Kunsthal Aarhus DK) 2021, "Woomb Room" (Art Sonje Center KR) 2021 "Open Marriage" at KIM? Contemporary Art Center in Riga (2018), "Peace, Love & Harmony" at SALTS Gallery in Birsfelden, Switzerland (2016) and Frutta gallery expositions in the arts fairs, including Frieze London and Liste Art Basel and others.
Gantriis has worked as Associate Professor at the Danish Royal Academy of Fine Arts Sculpture Department and is represented in the permanent collection of the National Gallery of Denmark.
Works
Please contact sales@etageprojects.com for availability and prices. All prices are excluding VAT unless otherwise stated. Please note that each artwork described above is subject to changes in availability and price without prior notice. The prices are valid for one month from the initial offer. The below offer does not include any shipping or installation, however we would be happy to organise this on your behalf.